Rigaud Benoit is one of the supreme masters of Haitian art. His huge mural, The Raising of Lazarus, was one of three that rose above the high altar in the Episcopal Cathedral. (The others were by Castera Bazile and Philomé Obin.)
According to legend, Benoit was the driver of the Centre d'Art's jeep in the late 1940s. Spotting artistic talent in decorations Benoit had applied to the vehicle, DeWitt Peters urged him to paint.
In the film Krik? Krak! (see Reading), Benoit disputes that account. He says he was a taxi driver; visited the Centre d'Art on his day off; decided he could do as well as artists exhibited there; returned home; painted a bit; brought a couple of works to Peters; and was immediately enrolled as one of the Centre's resident artists.
Benoit worked slowly and carefully, a handful of pieces a year and collectors have vied for his art from the very
beginning. His better works today command five figure prices.
I tried to locate Benoit on several visits
to Haïti in the 1970s and early '80s. Gallery owners were, understandably, not helpful.
In 1985 I ran into a broker (or hustler) who took me to Bigaud's home. I commissioned 'Wedding Reception' — the last painting, as it turned out, that the artist completed.
A few months before Benoit's death the 'broker' called to say 'my' work was finished. I rushed from San Francisco to Port-au-Prince — cashier's check in hand — to find that the painting existed only in charcoal.
In its place, Benoit offered me a large and gorgeous vodou piece. Though he said I could pay him in installments, I was uncomfortable with the idea and declined his offer.
While I have regretted that decision, I am far from unhappy with Wedding Reception. The 'shell' — roof, walls, floor — is like one Benoit painted many times, but I am aware of no two identical scenes within that shell.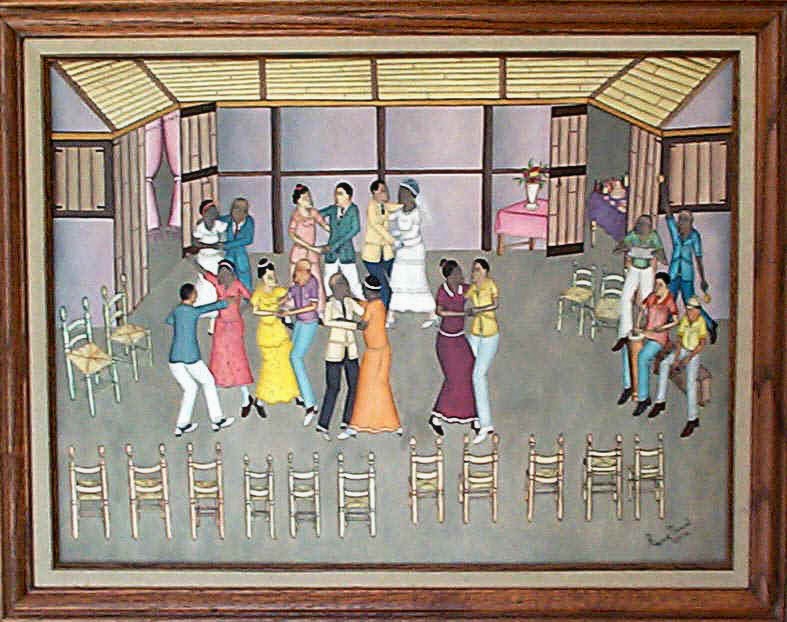 103. Wedding Reception_
1986 (18x24)
In early 2006 Gary Nader's gallery in Miami was offering a similar Benoit, also 18x24, for $35,000. That work, however,
had considerably less detail .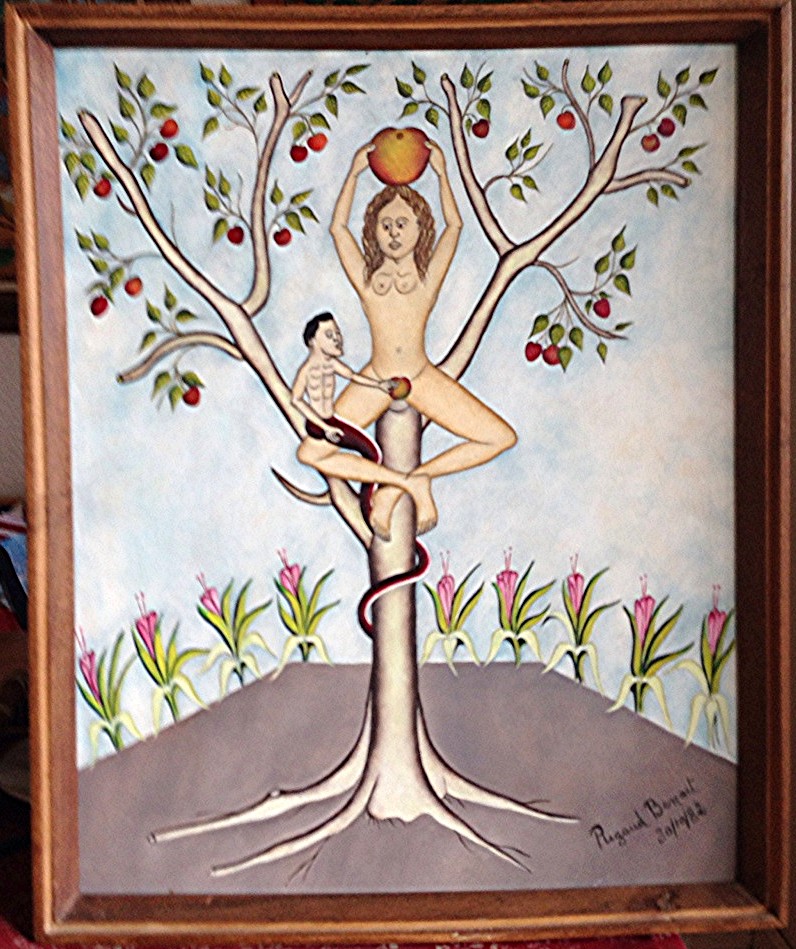 245. Le Jardin d'Éden
(Adam and Eve)
1982 (20x16)
Benoit painted both scenes of Haitian life and religious scenes (vodou and Christian and sometimes both, mixed). The latter generally display his imagination to greater effect and are the more highly prized. This work was acquired from Aderson Exumé, scion of a famous name in Haitian art and himself a major collector who lives in the eastern U S.