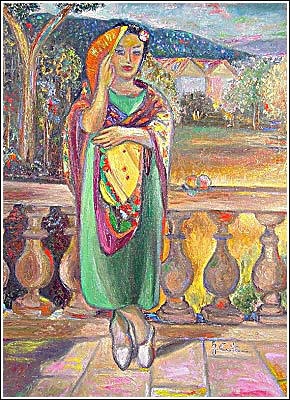 235. Woman on Balcony_
2002 (24x20)
The following is from Medalia (www.medalia.net/artistpage/CantaveJpre.html):
Joseph Cantave was born in Haiti ... His work is popular in New England, where he currently resides and works. He apprenticed with the popular Italian Painter Anthony Gillepsi from 1983 to 1985 ... As a result, he developed a technically sophisticated impressionistic style, blending pigments to create colors that are multidimensional. He chooses to work with oils, rather than the acrylics favored by many of the artists today. His work can be found in art galleries and public libraries as well as private collections all over the United States. In addition, his work is also in many private collections in Canada, the Dominican Republic, Germany, Hong Kong, England, France, Haiti, Italy, Panama, Puerto Rico, Russia, Saudi Arabia, Spain, Switzerland, and Thailand.
The artist also maintains his own site: www.josephcantave.net/home.html